Daniel Brian Downs
Temecula Valley Animal Hospital
26612 Margarita Road Suite #104 Murrieta CA 92563 United States
26612 Margarita Road
Murrieta
California
92563
US
Practice Manager
Temecula Valley Animal Hospital  has FEAR FREE veterinary professionals, creating an atmosphere that reduces the stress of both your pet and yours as well! We use music that has been specifically engineered to reduce the stress of your pet and you, use of pheromones, our gentle touch handling techniques, use of treats and toy distractions, all help us create a more relaxed environment for your furry family, and for you. Our kinder, gentler ways help us win over our patients and please our clients.
Temecula Valley Animal Hospital was voted "Best Veterinarian of the Inland Empire" 2018, by Press Enterprise readers.
~~~ The meaning of TVAH CARE is  a Positive Environment + Quality Care = Caring for our clients furry family.
 TVAH is our hospital's acronym ~ Our meaning of the acronym CARE is presented below:
Compassion towards an animal's needs,
Action to better their situation,
Resolve to enhance their lives, and an
Enduring commitment of their cause.
We will always listen and we will never rush you.
We care – it's the TVAH Care way.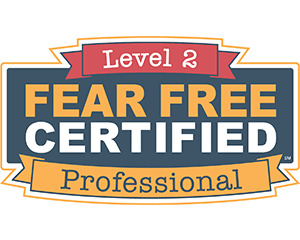 ~ Normally, we don't know if taking our dogs to the vet is more stressful for them or for us! My husband and I are so happy we found Dr. Downs at Temecula Valley Animal Hospital. She, along with an assistant have a loving and caring approach to relax and remove anxiety from your dog or cat. No cold, stainless steel table here. Instead, they sit on the floor and play with your pet, while offering treats and gently petting. Our dogs didn't even realize they were being examined. Their method along with their knowledge is exceptional. Our only regret is that we did not know about this facility and wonderful Doctor sooner!
~ Alida
~~~ Dr. Downs and her entire team are phenomenal. It's so obvious they truly care about the well-being of animals. They get to know your fur-child and never rush. Very reasonable rates as well. They will adapt to make sure that your pet is the most comfortable. My older, larger dog recently had surgery, a dental, along with some other procedures. Dr. Downs, Suzie, Dan and Justine went above and beyond to make sure it was a success. My boy isn't the "easiest" of patients and from Day 1 they made sure to accommodate him so he felt safe and happy. I'm so grateful I found this Vet! Go see them, you and your pet will be happy you did! ~ Marin
~~~ Excellent service. Dr. Downs and her team are amazing. I hate taking my cats to the vet as they are scaredy cats but this facility has a fear free approach. My cats have never been calmer. I also love that they don't try to up sell you and only focus on what you came in for. ~ Lilly
~~~ The BEST vet in town! Dr Downs and her husband are INCREDIBLE. I've been going to her for years and was so excited to see she ventured on her own and opened her own vet hospital. Dr. Downs and her staff are unbelievable. She sat with my 100+ lb Shepherd on the floor for about 30 minutes getting to know him and making him feel comfortable while she examined him. The vet tech was amazing and her husband that runs the front is so sweet. They take impeccable care of their office and spray themselves and comfort pads with pheromones to help put the animals at ease. Please don't waste your time going anywhere else. They love what they do and it shows! I'll be with her as long as she's practicing! They even called me the day after to see how Russ was doing after his vaccinations…I cannot say enough good things about them. ~ Jessica
~~~ Dr. Downs was able to get my little guy in last minute when he was sick. I LOVE LOVE LOVE all the staff. Everyone was so nice and sweet with my scared little guy. Dr. Downs and her tech spent a lot of time with us waiting for my little guy to become comfortable with them so they could complete the exam. And he received A LOT of treats:) It is very apparent that everyone at TVAH loves their job and loves animals, which helps puts owners and animals at ease. I have already recommended Dr. Downs and TVAH to friends. ~ Erin
~~~ We move a lot and have visited dozens of vets and TVAH by far spends more time with us and our dogs than any other vet we've been to. We are never rushed and always treated as though our pet's care is highly important. One of my dogs is very anxious but has been the most at ease here because of the pheromones that TVAH uses to calm him. They work so much at the vet office that we use some at home and have noticed behavioral improvements. Dr. Downs also has a calming disposition that puts my dog at ease. Finally, no more cold, stale waiting rooms with staff hurrying us through our visit! The prices are fair and all services are explained in detail. Also, if you are military you receive a 10% discount on most services (medications excluded). We have had nothing but a positive experience and highly recommend this vet. Trust the other 5 star reviews you read, you won't regret it. ~Derek
~~~ We have been a few times now and each time the staff focus on creating a calm and loving environment for the animals and really spend the time to answer any questions you might have. Thank you so much for the great service! ~LaZach