Mark Dilday
The Landing Veterinary Clinic
771 Gibsons Way Unit 5 Gibsons BC V0N 1V9
771 Gibsons Way
Gibsons
British Columbia
V0N 1V9
CA
Veterinarian
As the sister clinic to Eagle Ridge Veterinary Hospital in Sechelt, we built the Landing Veterinary Clinic so that the people and pets of the lower Sunshine Coast area have a convenient veterinary facility near them! We are open Monday through Saturday and are available for after-hours emergency care should the need arise.
We believe it is incredibly important to serve our clients with excellence and transparency. You get to trust that the medical advice you are getting is excellent, and the care is among the highest standards in the industry. We also believe your costs should be fair, and we follow the CVMA's suggested fees for veterinary services in British Columbia. You will walk out feeling confident that your pet received phenomenal care, and you will feel like your veterinary team truly cares about you. Because when you feel you can trust your veterinary team, we can do amazing things together for your pet.
Every one of our team members are Fear Free certified at both of our practices. This means we have undergone extensive training and testing to ensure that every single experience a pet has with us is deeply sensitive to their emotional state.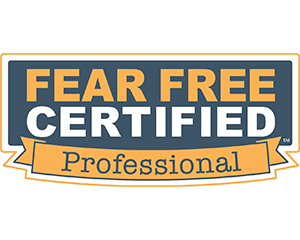 "Incredibly compassionate vets and staff. You never feel rushed and they always take time to discuss pros and cons of treatment and explain diagnoses. They even go above and beyond and have called me multiple times late
into the evening to discuss test and blood work results. I would highly recommend them and always feel my pup is in great hands when he's under their care!!   — Lisa Cramm
"Nothing but love and gratitude for all the staff members during a horrific crisis with my mother's dog. He is alive today because of their quick thinking. Outstanding teamwork!"  —  Anne-Marie Fallis
"Five stars – every time. They are kind, patient and thorough with the care for our overweight cat — Random. We appreciate all that they do! Thank you!"  — Weegee Sachtjen