Dr. Julie Reck
Veterinary Medical Center of Fort Mill
Fort Mill SC 29708-8488 United States
3734-3760 Leonard Morgan Road
Marshville
North Carolina
28103
US
Veterinarian, Practice Manager
Julie Reck, DVM
Dr. Reck is a veterinarian with passion for creating new communication avenues with pet owners. She believes that enhancing the communication capabilities of the veterinary profession will foster a stronger connection with pet owners and create an enjoyable professional environment for veterinarians, veterinary technicians, and receptionists.
In 2010, Dr. Reck published Facing Farewell, a book dedicated to providing pet owners with information to assist them with making difficult end of life decisions for their pet. Facing Farewell was awarded the Maxwell Medallion of Excellence for the best book in pet care and health by the Dog Writers Association of America at the 2010 Westminister Dog Show.
In 2011, Dr, Reck opened the Veterinary Medical Center of fort Mill. The practice quickly flourished and is now home to 4 full time associate veterinarians.
In 2016, Dr. Reck launched a revolutionary approach to veterinary wellness care called the Healthy Pet Happy Pet Experience℠. It is a two step approach that divides the wellness visit into a one-on-one medically focused veterinary consultation and then separate seminars on key topics of pet care: grooming, nutrition, and training. Dr Reck is passionate about positive culture development in veterinary practices.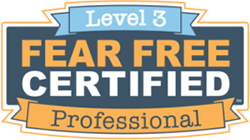 "We took our new puppy to Veterinary Medical Center of Fort Mill today for his first visit a few days ago. It was a great experience! They were so nice, Ralphie loved it (he was so comfortable he fell asleep on the floor!) They got us in right away, and I was impressed with how calm the facility was. I've seen vets where the pets are anxious and stressed-out due to the commotion. I highly recommend them!"
-Lynn A.