Julie Westphal
1020 Veech Lane
Decatur
Illinois
62521
US
Technician, Trainer, Pet Sitter, Other (Veterinary), Other (Non-Veterinary)
PROFESSIONAL DOG TRAINING & BEHAVIOR MODIFICATION. CLASS OPTIONS, WORKSHOPS, LODGE N LEARN, DAYCAMP, SEMINARS, LONG-DISTANCE PROGRAM & PRIVATE TRAINING AVAILABLE!
Proud Member of: The Pet Professional Guild & Certified as a Level 3 Fear Free Elite Professional. This means I use techniques which include helping the dog Learn to Earn their food, treats, toys, freedoms, praise, snuggles, etc – everything you likely already give them for free, but all the while building their confidence and understanding of our very human world, much different from their own, and learning new skills and manners that will last a Lifetime without you purchasing aversive equipment or collars. We use games to help ENGAGE the dog and help structure activities to build success and trust, like maneuvering agility or play equipment, learning useful tricks, and even veterinary and husbandry behaviors to help at the vet's office!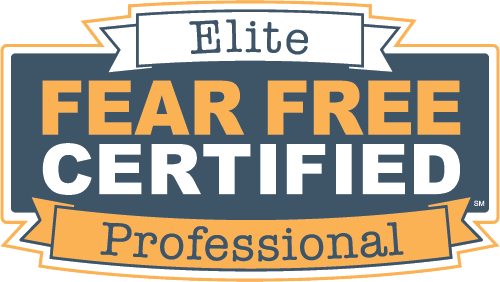 Dr. Brian Ray, Owner, Belle City Veterinary Hospital: "I hired Julie on as a technician in 2007 and have not only been pleased with her performance in my hospital but with the fact that I can now offer sound behavioral advice to my clients. I like her relationship-based approach to training and the way she uses positive behavior modification techniques to help my patients overcome their training obstacles."
Dr. Genesia Livingston, Owner, Belle City Veterinary Hospital: "When I get concerns from my clients regarding training questions or behavioral concerns with their pets, I refer them immediately to Julie. Whether via a phone consultation or an in-home session, I can trust my clients' needs will be met."
Amy Ray, Practice Manager/Owner, Belle City Veterinary Hospital: "Julie is a licensed technician for us, for a number of years now. She brings not only solid technical skills, but a sparkling enthusiasm to the table. Julie has a never-ending supply of new, fresh marketing ideas and is always willing to jump in with both feet. She has a natural talent, not only for handling dogs, but presenting skills to them in such a relaxed and gentle manner that they develop beautifully. Julie trains so that the owners of the dogs she works with learn how to deepen their relationship with that very important furry family member."
Dr. Todd Whitney, Owner, North Shore Animal Hospital: "I have been working with Julie since 2007 and have happily referred any behavioral questions her way, knowing she takes any time necessary to accomplish their individual goals. I have received a lot of positive feedback about her programs and feel confident in my referrals."
​
We are proudly referred to by 27 veterinarians and over 10 veterinary practices!
RESCUE ORGANIZATION REFERRALS
"Northcentral Maltese Rescue has had the privilege of working with Julie. She has contributed time and again her time and talent to help rescue dogs who come to us with behavior issues. As well she has taken the time to work with new adopters to help these needy dogs adjust to their new environment. Julie has a very special connection with these pets, and is able to connect with them in a very calm way to pave the way for a bright future. Through not only training the dog but educating pet owners on proper techniques to create a bond. Julie takes the time to do demonstrations and presentations before our largest fund raiser of the year. Attendees are thrilled with what she demonstrates and the information she eagerly shares. Rescue is grateful to Julie for all she has taught and continues to teach us about this special bond between humans and animals and how to bring out the best in both." – Mary Palmer, President, Northcentral Maltese Rescue, Inc.
"Julie Westphal has been a volunteer with Doberman Rescue Alliance of Wisconsin since December of 2012. As a rescue group, we are incredibly fortunate to work with Julie. She has a vast knowledge of behavioral training and has helped in countless situations. She has a huge heart and a powerful connection with canines. Her ability to assess and apply her knowledge through training is amazing, and her willingness to share her time and talent has been invaluable. Her assistance has been crucial in assisting adoptive families both pre and post-placement. We are continually thankful for Julie's continued efforts and support, and highly recommend her to anyone with training needs!" – Jennifer Vander Vorst, Director, Doberman Rescue Alliance of Wisconsin, Inc.
MORE PROFESSIONAL TESTIMONIALS
We are referred to locally by Clover Pup Salon and by The Woof Doggie Daycare.
CLIENT TESTIMONIALS
We are always overjoyed with our client testimonials:
After attempts at other training facilities . And failure . We had three private sessions with Julie. And success . We had our Obedience title in hand. Then later we needed a dog sitter. I really believe my Dogs had a better Vacation and went more places, then I did. I would highly recommend Julie to anyone. D. Giersch
"Julie is so knowledgeable and professional. In just our first session we made some progress with our sassy 7 month old puppy. We still have lots of work to do and plan on working with Julie until we get our skills mastered! Julie is a priceless gift to your dog and family!" L. Griffiths
"Julie was super professional! She emailed when she said she would, she called to confirm the appointment, she showed up on time and gave me a wealth of information. I would highly recommend Julie's services!!!" T. Cassidy
"I would highly recommend Julie to any of my friends (and have) that want to train their dogs. I like that she comes to your house. She was very helpful in giving me a different approach to training that is more my style of training. I have started using the techniques she has shown me in the past few days and my dog has shown improvements." R. Kosinski
"Thank you so much for all of your information. It was very helpful. My family took a real liking to you. You will be happy to know he is going outside on his own, and he took his very first walk today! I love seeing his personality develop more and more every day." H. Treffert
"Thank you so much for all your help. The girls were pretty tired after you left. We worked a little this morning, and we will do more tonight. J was so tired and so lovey last night at bedtime. She jumped on my bed and laid her head right on my pillow. I fell asleep listening to her breathe. I believe you have made a huge difference already. God bless you, the world needs more like you." K. Stokes
"Julie Westphal is a very knowledgeable professional, who communicates well with people and animals. We learned a lot from her, and were very impressed with her knowledge and abilities." – Mr. & Mrs. T. Bolton
"Just wanted to share with everyone my experience. I don't have time for class, so I started looking at in-home trainers. I called "Awesome Paws Academy" and when I talked to Julie…there was just something that clicked when she explains why he might be doing the jumping and barking. She had not even met him yet but she guessed that when I knee'd or pushed him down he got more excited. I was reinforcing him, not punishing him! He LOVED the "knee game" and wanted to play more! She even encouraged me to call around a bit and make sure I found the trainer that I felt most comfortable with, since I didn't know what I wanted to do…instead of asking "when would you like to set this up?" like the others. She does cost more than some. So I did, went through my notes, visited her and others websites. Went to her youtube link and even looked at the blog. The videos and entries are not the usual "professional" ones …but they do show her love for dogs and made me smile. I called her back and asked for some referrals, saying I wanted just a little more time. The referrals I spoke with (only one did not get back to me) were all happy with her help and feel they accomplished their goal. I'm a pretty skeptical person…they are referrals after all. But they all encouraged me to ask for a "demo" if I picked her. Well, I went with my gut and we had our first session. That was 3 sessions ago and now I am confident that my Gryf can be a good boy! Thank you, Julie!" B. Smith
"Absolutely the best dog trainer I've ever met. Extremely knowledgeable, compassionate and caring." N. Bolton
"We were blessed with such a sweet & loving dog! And, thanks to Julie Westphal at Awesome Paws Academy, he is also very patient and tolerant (with our new human addition, Morgan)." J. Tessman
"Hi my name is Denise and I am disabled. I rescued both my German Shepherds before I was in a bad car accident. The picture is of my boy Bruno and my girl Sasha. They were having trouble getting along. I did not know what to do. I heard of Julie at my Vet's office and called her right away. Julie came over and worked with us and taught me different ways to to work with my dogs. I could not walk them, so I learned different types of games to play with them and make them work. She helped me find out why Sasha was aggressive and fix it. I don't know what I would have done without Julie. I was thinking of re-homing Sasha but I did not want to do that it would have broke my heart. The picture below shows the progress because they are laying down together. That would never have happened without Julie's help. Isn't that a beautiful picture!!"
"Julie has a profound knowledge of animal behavior. I've seen her turn anxiety-ridden, hyperactive, and aggressive dogs into dogs that are now confident, completely manageable, and happy to be a part of their owner's lives. You only get out of your pet what you put into him or her, but Julie is your best first step to being the pet owner you want to be!" – S. Severson, CVT
"Julie has this special talent for being able to interact with and understand animal behavior and animal/human relationships that just can't be taught in any school. It's a surprise to many (myself included) to see just how much you can learn and accomplish when you take the right approach. Many people can claim they teach your dog to obey you, and sometimes they actually can. But at what cost to you and the relationship that you have with your pet? To see the full potential you can have with your dog, where you know you both are happy – and the ability to wow your friends and family – talk with Julie. Don't settle for anyone else." – B. Graham
"Julie is one of the most knowledgeable individuals in her field. Not only does she know training and behavior, she also knows much about veterinary medicine. She is very friendly and outgoing and is willing to spend all the time with you and your pet that is needed and more." – E. Cedillo