S. Kate Thompson
Southpoint Animal Hospital
5601 Fayetteville Road, Durham, NC, USA
5601 Fayetteville Road
Durham
North Carolina
27713
US
Veterinarian
Southpoint Animal Hospital is a veterinary hospital located in south Durham, NC near Southpoint Mall.  Our veterinarians, along with a highly skilled team of nurses, technicians, and client care advocates, proudly practice the highest level of medicine while also providing excellent customer care.
Dr. S. Kate Thompson is the newest member of the team, bringing with her Fear-Free Certification and expertise. Southpoint also has multiple Fear-Free Certified veterinary technicians and it's own Fear-Free Committee, which serves our animal patients by reducing their fear, stress, and anxiety while providing top tier medical care.
Each patient and their parents are treated as individuals with unique needs and desires.  The patient's well being, both physical and mental, is our top priority.  We strive to make each visit with us informative, rewarding and full of happy moments and love – it's just what we do.  Come see for yourself why pets love us!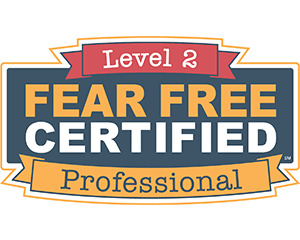 Vet Visits Are No Longer Stressful Events
"Dr. Thompson is an absolute godsend who has completely changed the way my dog acts at the vet. Previous to visiting Dr. Thompson, my dog hated the vet. She was terrified and fought back during every procedure and visit.
Dr. Thompson and the staff have done so much work to make my girl comfortable. From feeding her peanut butter through her muzzle to holding our appointment outside for us, Dr. Thompson strives to make every visit to the vet a positive one for my dog.
My dog will cuddle with the vet now! She approaches the staff with a wagging tail and wants to be petted. It's like I have a completely different dog. Vet visits are no longer stressful events for either of us.
Sully and I are so grateful to have Dr. Thompson as our vet!" –A. Stocks
Dr. Thompson Always Put Her At Ease
"I truly cannot recommend Dr. Thompson enough. We followed her to [her new hospital] because she does such a fantastic job with our cat, Carly.
Carly needed seen for some eye trouble and we were were able to get an appointment with Dr. Thompson for the following day. This was our first visit to Carpenter and even with the extra precautions taken due to Covid, check-in/checkout went smoothly and the staff were great. Our vet tech (also named Carly) was so sweet and understanding and did a great job putting us at ease in a new vet's office.
Dr. Thompson, as always, did a fantastic job. Carly is a very sassy senior cat and Dr. Thompson always puts her at ease, even if that means conducting the entire appointment from the padded bench because Carly did not want to sit on the exam table. Dr. Thompson is incredibly professional, knowledgeable, and always answers the thousand questions I have in regards to Carly and any treatment she may need. I truly cannot say enough good things about Dr. Thompson and the compassion she has for animals. She is absolutely incredible and I will continue to recommend her to anyone on the hunt for a vet." –E. Clark
She Saved My Cat's Life
"I am pleased that I choose [Dr Thompson] for my pets. I have had a wonderful experience every time I used their services. Dr. Hodges was wonderful when our dog was neutered …couldn't have asked for a better doctor patient experience. On Monday, I had another "over the top" experience with Dr. Thompson. My cat was experiencing difficult to diagnose symptoms…….plus… very fragile and old. After a through exam and some procedures , my cat is back to normal…..amazing. Dr. Thompson just would not give up until she did everything in her power to make her recover. In addition, Dr. Thompson not only followed up on her care but helped make my cat's return home easy…..a safe, comfortable space where she could convalesce. I am thankful that I found Dr, Thompson……in my opinion……she saved my cat's life." –J. Brostedt
A Way of Making Our Pup Feel At Ease
"We followed our vet (Dr. Kate Thompson) to [her new hospital] because she is such a wonderful & competent provider. She's incredibly thorough, always well-read & up-to-date on medications & treatments, & she has a way of making our pup feel at ease throughout the experience. I swear our pup is as excited to see her as she is to see us! Dr. Thompson always listens to our concerns & gives us time to ask any questions. We had a wellness visit recently & the entire staff made the visit easy & informed us of everything with multiple updates, even though we couldn't go into the clinic because of COVID restrictions. We are very happy with our experience & are so happy to have Dr. Thompson as our vet & would easily recommend her to friends & family!" –L. DeRuyter