Meghan Ellis
Family Veterinary Mobile Clinics
115 South Horner Boulevard
Sanford
North Carolina
27330
US
Veterinarian
Family Veterinary Mobile Clinics are located in Sanford, NC and in Southern Pines, NC.  Your pets deserve the comfort and convenience of home veterinary care by Certified Fear Free Professionals!  We help families with dogs, cats, backyard poultry and pet birds, reptiles, small mammals, goats, pot belly pigs, amphibians with preventive care, sick patient treatment, chronic disease management, and behavior services.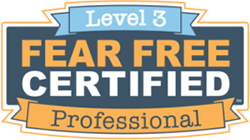 "Dr Meghan and Chelsea were so great. Our dog Patches was very calm and happy, even through blood being drawn. A big thanks for being such a wonderful Vet."  Sue U.
"Dr Megan and her assistant are the best! They are so friendly and my two cats and two dogs love them. I never worry about their health because I know they always check everything on our animals. Highly recommend them."  Doris R.
"What can I say? I love Dr. Ellis. She was the first one to look at my sick puppy with loving eyes. My puppy is now 5 and omg does Z love her." Lizeth C.
"Doctor Megan has help our family out several times and is a very good vet and just a delight to deal with. Having her come to the house is a super plus especially for a cat who hates the carrier. I can't say enough nice things about her services." Michael R.