Michele A Forbes
Compassionate Care Animal Hospital
2200 S. Main Street Ann Arbor MI 48103 United States
2208 South Main Street
Ann Arbor
Michigan
48103
US
Veterinarian
Our goal is to provide outstanding medical and surgical care in a compassionate setting. CCAH is dedicated to providing an exceptional experience for both our patients and clients. Our entire team is Fear Free Certified, and all our doctors have emergency experience. We offer extended hours, hospitalization, and training classes.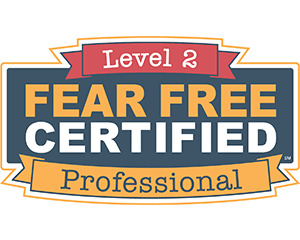 "I called on a whim after seeing the positive Yelp reviews and got our new rescue pup right in to see the only vet open past 2 on Saturday. Dr. Forbes and her wonderful techs were SO thorough, SO compassionate, and answered every question and then some about our new dog and even some about our current dog. Dr. Forbes even recommended trainers and other things outside the realm of what other vets usually would. We left thrilled with her and the practice and have since transferred our other animals into her and the other doctors' care. The appointment times are long enough that you can really get the most out of each visit. What a stroke of luck to have chosen them that Saturday! Thank you, Compassionate Care! (They are very appropriately named if you can't tell already 🙂 )" -M.M.
"I cannot say enough good things about Compassionate Care Animal Hospital. The veterinarians and staff there saved my cat Murphy TWICE from life threatening conditions. A And because we have an ongoing relationship with the veterinarians and staff, Dr Forbes was able to recognize that something just wasn't right with Murphy. The diagnostic tests were normal, but she knew his personality was different than usual. She did find a serious condition, and successfully treated him.
As Registered Nurse, I know how difficult it is for physicians to diagnose patients sometimes. Imagine the skill that is necessary to diagnose a tiny creature that can't speak and tell them what is wrong. The veterinarians there not only have perfected these skills, but they truly care about their patients.
There is always a follow up call and worry about the patients' wellbeing. I trust that my pets are in the very best of hands. It is so rare these days to find that level of loving compassion, professionalism, and knowledge combined. I will never take my animals to any other hospital. They are the absolute best!!!! Thank you!" -C.S.
"With a large, mixed breed #feardog, "brick and mortar" vetting has been an impossibility – until the CCAH crew. My crew is typically healthy (and i have 2 other dogs that think the vet is better than happy hour), but I've had a couple emergent situations with the fraidy guy.
Yesterday he took treats and explored Becky AND he let Dr. Kemner examine him without me holding him (or sedation or muzzle). That trip alone is proof that happy visits, meeting our animals where THEY are, and, sometimes, behavior modification medication can change our animals' (and ours!) lives.
So grateful we have a #fearfree-certified vet around the corner!!!! (With late night hours!!!)" -H.A.
"My husband & I are so happy that we have found a Vet office for our precious fur babies, Zoey & Hershey. Compassionate Care really will go the extra mile caring for both the pets and the owners. We recently loss our poodle Hershey and I'm not sure how we could of gotten through that alone. Dr Forbes and Staff really gave us such wonderful care. Compassionate Care is the only place we will ever go. Thank You All for Caring So Much!!!" -N.B.