Dana Liska, DVM, DACVD, and Michele Rosenbaum, VMD, DACVD

Meet Bean Dip, a 3-year-old rescued male neutered Domestic Shorthair
Bean Dip is sweet and would never bite, but his body language demonstrates he feels anxious around strangers and is fearful of veterinary exams. Based on past visits his veterinarian, Dr. Taylor, created a personalized Fear Free approach that includes premedication with anxiolytic medications when he visits the veterinary clinic.
Bean Dip also suffers from feline atopic dermatitis. The chronic nature of the disease means he visits Dr. Taylor frequently for flares. Mira, his owner, called to report Bean Dip was experiencing another flare of sensitive skin and ears. Mary, the practice customer service representative (CSR), knew just what to do: Schedule Bean Dip an appointment for examination!
Mira was very impressed with the practice's calming Fear Free based waiting room. Bean Dip seemed impressed, too, thanks to the anxiolytic pre-medication given prior to his visit. Mira also brought little bites of cooked chicken, Bean Dip's favorite treat, and had not fed him that morning.
Stephanie, the veterinary technician who took care of Bean Dip, had readied the exam room for Bean Dip's Fear Free dermatology exam. Here's what she did:
Ensured there were pheromone diffusers in the room. She and Dr. Taylor also sprayed pheromones on their clothing and on the fluffy warm blanket that Beanie would sit on during the exam.
The chicken treats were hidden in her pocket and she had an adhesive lick mat ready for Beanie to spread with spray cheese or whipped cream to feed him during the exam.
Veterinary technicians like Stephanie play a key role in facilitating the dermatology appointment. Here are other ways they can help the itchy pet and their pet parent:
Go over the history form and ask clarifying open-ended questions ("What concerns do you have about…", "Tell me more about…", and "Tell me about your experience giving him medications…") while showing empathy and concern.
Help the owner to understand how to use an itch tracker to gauge their pet's level of itch to bring back to the next appointment
Go over written discharge instructions with owners to help improve compliance, and review all medications, including dosing and instructions for administration or application using Fear Free techniques.
Dr. Taylor then performed her dermatologic physical examination on Beanie using Fear Free techniques. This is important because dermatologic diseases are often chronic and recurrent, and these exams are repeated on the same patient on multiple visits throughout the patient's life. Veterinarians and staff must not induce fear, anxiety, and stress (FAS) responses during initial visits; otherwise, pet owners may avoid rechecks and needed treatment, negatively impacting the patient and pet owner's emotional well-being.1
To avoid this, use reversible sedation and pain control if needed for dermatology examination and otoscopy to reduce FAS in the itchy patient. Often sedation allows for a more thorough skin and ear exam and makes collection of samples easier and quicker. Click to download Fear Free In Clinic Sedation Drug Chart.
Dr. Taylor examined Bean Dip with Mira present. He was most comfortable on the table near Mira, wrapped in his warm pheromone-sprayed fluffy fleece blanket. Other patients prefer to be examined in their owner's lap or on the floor standing on a non-slip mat.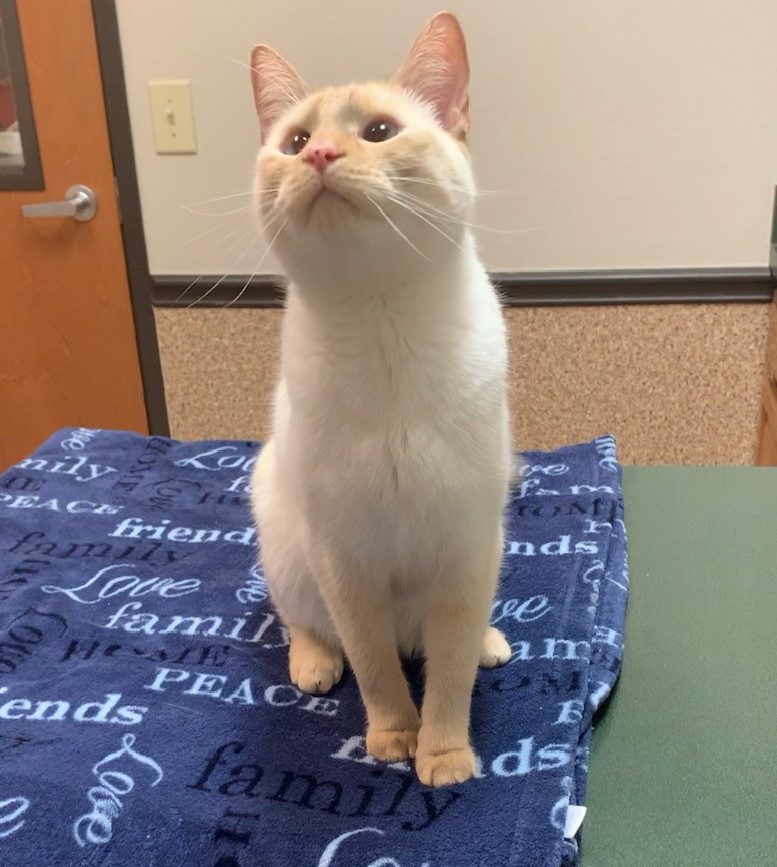 Dr. Taylor started Beanie's dermatology exam by touching less sensitive areas such as his back and chest before slowly and continuously moving to more sensitive areas with a higher density of nerve endings such as the face, ears, paws, axilla, groin, and genital areas. Stephanie gently lifted Beanie up on his hind legs to examine his underside. This may be less stressful for some smaller patients like Bean Dip than laying them down. Stephanie gently scratched his itchy spot with one hand; this can help relax the patient during the exam. She also offered him chicken treats.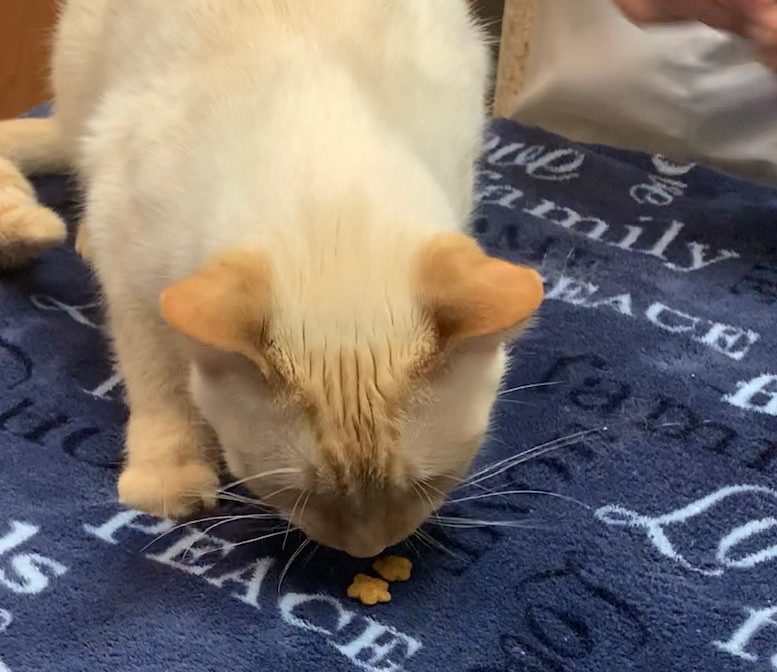 Next came Bean's Fear Free otoscopic exam.2 The ears are particularly sensitive and any manipulation has the potential to induce an FAS reaction. For acute otitis, as in Beanie's case, particularly if painful and erosive-ulcerative, limit your awake exam to visualizing the canal opening and most proximal portion of the vertical canal.
Dr. Taylor started a calm and gentle touch on the shoulders while Stephanie offered Bean food rewards. She moved her hand from Bean's shoulder to her neck, then touched the base of his ear. Next she lifted Bean's pinna, then touched the opening to the canal.
Once Bean was calm about the exam so far, Dr. Taylor shined the otoscope light without touching the canal, then gently touched the tip to the canal, then advanced the scope into the vertical canal with the ear in the resting position, keeping the scope tip centered in the lumen.
Dr. Taylor's final step was to gently extend Bean's pinna and lower the otoscope in a single, smooth movement, permitting visualization of his horizontal canal and tympanic membrane. This exam should be done gently and not for too long.
Stephanie was sure to reward Beanie for being such a good boy during his exam with gentle stroking and his favorite chicken treats. Patient and gentle handling by technicians and veterinarians using Fear Free exam techniques can go a long way toward lessening FAS in dermatology patients.
References
Angus JC. Reducing fear, anxiety and stress in dermatology. Proceedings VMX 2019
Angus JC. Otitis externa and the fear-free approach. Proceedings VMX 2019
This article was reviewed/edited by board-certified veterinary behaviorist Dr. Kenneth Martin and/or veterinary technician specialist in behavior Debbie Martin, LVT.